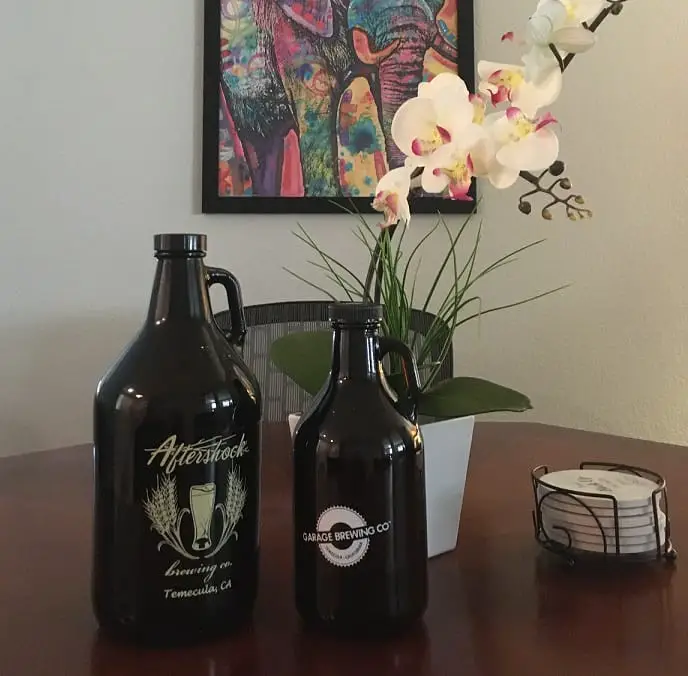 Nothing helps you take the edge of a long day of hard work like a refreshing glass of beer. However, you don't always want to go to your local micro-brewery after work. That's when having a growler comes in handy as it lets you pick up your favorite craft beer ahead of time.
Beer lasts in a growler anywhere from a few days to two weeks, depending on what kind of growler you use. For instance, a regular growler keeps beer for a few days, while a pressurized growler can keep it fresh for up to two weeks. However, beer in an opened growler goes flat much quicker.
Although many people are familiar with growlers from hanging out in local breweries, not everyone knows all the options when it comes to purchasing and using growlers. So let's talk a bit about growlers, the different types available on the market, and how long they can store beer.
How Long Does Beer Last in a Regular Growler?
Beer stored in non-pressurized growlers typically lasts for several days. However, once opened, the beer will go flat in about 36 hours or less.
A variety of factors can increase the preservation length of beer in a non-pressurized growler. For instance, using a tube and filling the growler from the bottom of the container increases the shelf life of the beer. Likewise, using a vacuum pump to clear air out of the growler using CO2 before filling it helps preserve beer longer.
Additionally, turning the pressure down on the tap will increase the storage time for beer stored in non-pressurized growlers. Beer is usually served at about 10 to 15 psi. Turning the pressure down to 2 to 4 psi provides enough pressure to pour the beer without releasing as much CO2.
Regular, or non-pressurized growlers, are typically made of glass. However, they are available in stainless steel. And, you can occasionally find custom ones made in ceramic. However, those tend to be quite expensive and typically don't last as long as glass or stainless steel growlers.
The most common colors for glass growlers are transparent (flint) or amber. Clear growlers typically cost less than amber ones. But, amber growlers have the benefit of offering protection from ultraviolet rays. Ultraviolet light degrades beer causing a sour odor and taste.
Growlers are available in a variety of sizes, including:
32 ounces (0.94 liters)
1 liter (33.81 ounces)
64 ounces (1.89 liters)
2 liters (67.63 ounces)
1 gallon (3.79 liters)
Purchasing a Non-Pressurized Growler
Non-pressurized growlers are available for purchase from local micro-breweries, brew-pubs, and restaurants. However, you can typically save a lot of money by purchasing a growler and bringing it in for a refill. Most places will fill your growler provided it doesn't have the name of another brewery on it.
A variety of great options are available online. For example, if you want a basic 64-ounce growler, Cornucopia Brands' glass growlers with black phenolic lids are a great choice. If you aren't familiar with the term, phenolic tops are poly seal caps that have an inner plastic cone to provide a proper seal for fermented beverages.
If you want something a little fancier, Legacy makes a 64-ounce stainless steel growler. Its secured swing-top stopper with a silicone seal prevents any leakage, making your beer last longer.
In the event you are picking up some beer on the way to a picnic or going camping, you might consider purchasing Stanley's 64-ounce Easy-Pour vacuum insulated growler. It features double-wall insulation and can keep your beer cold up to 24 hours.
How Long Does Beer Last Using a Pressurized Growler?
Beer typically lasts in a pressurized growler anywhere from a few weeks to a few months. Unlike non-pressurized growlers, the method of filling the growler doesn't particularly matter. Having a pressurized growler makes up for any lost carbonation while filling it.
Pressurized growlers are available in two different styles, those with pressurized caps with CO2 cartridges mounted between the cap and the tank. And, there are pressurized growlers with side-mounted CO2 cartridges.
While both growlers work for pressurized storage of beer, there are advantages to purchasing growlers with a side-mounted CO2 cartridge system. For example, you can remove the growler's regulator, spout, and the CO2 cartridge making your growler more compact for storage. These growlers typically can store beer for months.
Selecting a Pressurized Growler
Pressurized growlers usually aren't available for purchase at local micro-breweries, brew-pubs, or restaurants. And, if they are, they are generally quite expensive.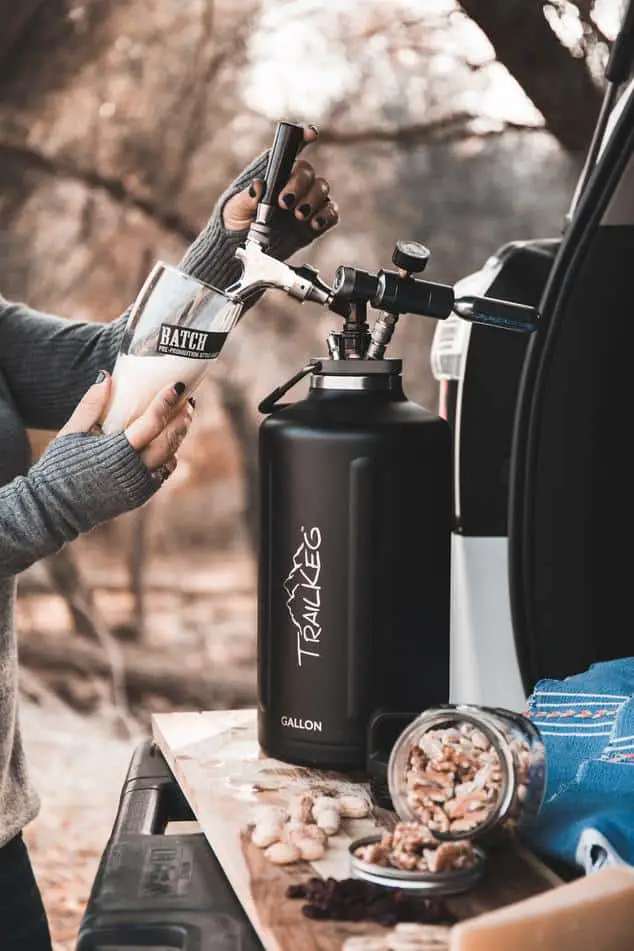 For that reason, you are going to want to purchase your own before making a beer run. A variety of pressurized growlers are available for purchase online.
For instance, NutriChef makes a versatile 64-ounce Countertop Cooler Mini Keg Growler. This growler features a black matte, powder-coated, stainless steel construction. It has a regulator and spout you can detach under pressure, and best of all, it can keep your beer vacuum-pressured and fresh for up to three months, even after use.
If you want something a bit fancier, a GrowlerWerks UKeg Stainless Steel Growler is a great option. Available in both 64-ounces and 128-ounces, they feature double-wall vacuum insulated stainless steel. They also have a CO2 regulator cap, a pressure gauge, a dispenser tap lock, and a sight glass that indicates how much beer you have left.
This GrowlerWerks option features a CO2 cartridge mounted beneath the cap and keeps beer fresh for several weeks.
If a classic look is more your style, NutriChef makes an excellent 128-ounce Pressurized Growler Tap System that resembles the kegs you typically rent from a beer distributor. The NitriChef growler features stainless steel constructions, an upgraded adjustable regulator, and a side-mounted CO2 cartridge. It keeps beer fresh for up to two months.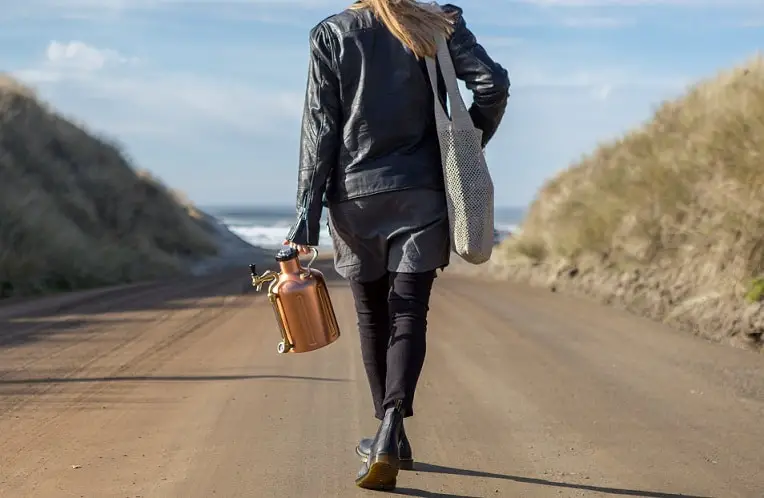 The History of Growlers
Growlers are containers used to transport and store beer purchased from micro-breweries, brew-pubs, and restaurants. Typically made of ceramic, glass, or stainless steel, growlers usually have a screw-on cap or a hinged porcelain one with a rubber gasket.
Sold as a means to sell take-out beer, growlers were first used in the late 19th century. There are a couple of theories regarding how they got their name.
The first growlers were lidded galvanized pots, and as patrons carried their beer home, the beer sloshed around, and the carbonation was agitated, causing a natural "growling" sound – hence the name.
However, another version of the story claims that back when patrons wanted a pint, they would ask the bartender to fill half of their two-quart growler. As one might expect, frequently, there would be a dispute as to what constituted half the container leading to considerable "growling" between the two parties.
Either way, the term "growler" appeared for the first time in Harper's Magazine in their July 1893 issue. Fast-forwarding to World War II, city children would purchase draft beer from local breweries to workers at lunch in a practice known as "rushing the growler."
Then, in the 1950s to early 1960s, waxed cardboard containers resembling modern Chinese take-out containers were used to transport beer on Sundays when liquor stores were closed.
Plastic containers replaced cardboard one by the late 1960s the use of growlers faded out in the 1970s when several states legalized Sunday sales of beer.
In 1989, Charlie and Ernie Otto of Otto Brothers' Brewing Company decided to offer take-out beer to local patrons. However, their brewery lacked the equipment to bottle beer. After some brainstorming, they began using half-gallon glass containers, and growlers were reintroduced to modern America.
What We Learned Today
We hope you enjoyed our article about beer growlers. Today we learned a little bit about the history of growlers. Additionally, we discussed how long you could store beer in pressurized growlers versus traditional glass ones.
You might want to consider bookmarking this article, particularly if you are in the market for a beer growler. Now get out there and add to your adventures in sampling craft beers.
If you are interested in learning how to make a growler last longer check out this article on how to make a growler last longer.