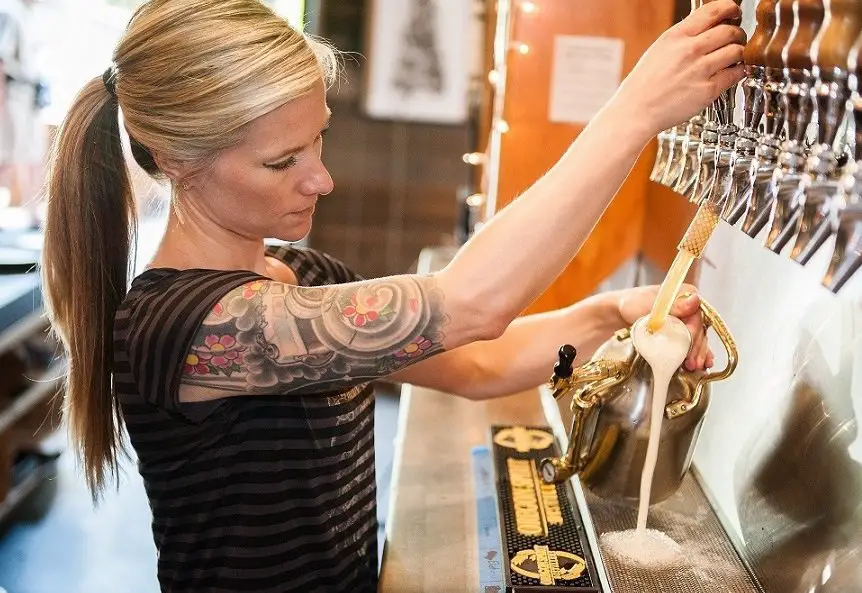 As a long-time lover of beer, growlers used to befuddle me. Great for purchasing takeout beer from breweries, beer-pubs, restaurants, and even your own homebrew draft system! I never understood how to properly use one until recently.
To make a beer growler last longer requires purchasing a quality growler and using proper pouring techniques. For example, you should use a tube to fill your growler from the bottom. You should also clear the air from the growler, and decrease the pouring pressure from the tap while filling it.
Additionally, there are some other techniques you should use for optimal storage time for your growler. Keep reading for a comprehensive overview of all the ways to make your growler last longer.
Select a High-Quality Growler
Purchasing the best growler you can afford has a direct impact on making your beer last the longest. For example, beer stored in a non-pressurized glass or stainless steel growler typically lasts from a couple of days to a couple of weeks. However, once you open a beer growler, the beer only lasts about 36 hours tops before it goes flat.
On the flip-side, beer stored in a pressurized growler can last for several weeks to a few months.
Purchasing a Growler
YoungEver 32-ounce Amber Glass Growlers are excellent for storing takeout beer from your favorite beer pub. Their dark coloring protects your beer against degradation from ultraviolet light rays. It features poly cone sealing lids to prevent CO2 leakage.
If you want something a little bigger, Legacy's 64-ounce Dark Amber Glass Growler Jug is an outstanding choice. It features an integrated handle, and purchase includes a manufacturer's lifetime guarantee.
Getting a little fancier, G. Francis offers a 64-ounce Swing-Top Stainless Steel Growler. Its flip-top cap with rubber gasket provides a proper airtight seal for maximum freshness. This growler features a built-in folding carrying handle.
If you plan on grabbing some beer for your local brew-pub and heading out for a picnic or to the lake, Miir's Insulated Beer Growler might be the ideal growler for you. Features a double-wall vacuum insulation and stainless steel construction, this growler keeps your beer cold all day (or night).
Its pressure locking lid prevents any spillage and CO2 leakage. Purchase includes a limited manufacturer's lifetime warranty against defects.
For maximum storage time, you might consider purchasing a GrowlerWerks Copper UKeg Growler. Available in 64-ounce and 128-ounce, this growler features an adjustable carbonation cap ranging from 0 to 15 psi of pressure.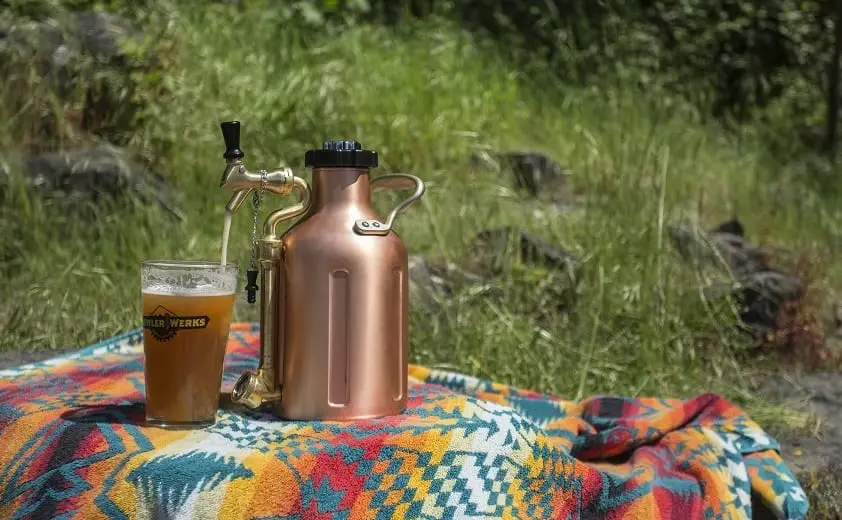 It has a pressure gauge, an interchangeable tap handle, and a metered sight glass showing how much beer you have left. The purchase of this growler includes a one year manufacturer's limited warranty.
Pro Tip: In case you were wondering. The Ukeg growler can actually be used to force carbonate your homebrew. No bottle conditioning required.
Attach a Growler Filler Tube to the Beer Tap
You should never fill a growler directly from the tap. Doing so creates a lot of foam, which releases much of the beer's CO2. It exposes your beer to oxygen, decreasing the amount of time you can store it.
For that reason, you should always use a growler filler tube to fill it up from the bottom. Using this method of pouring is guaranteed to keep your beer fresher for much longer.
AK Unlimited makes stainless steel tipped Beer Growler Jug Filler Tube with a double o-ring that fits most beer taps. All you have to do is plug its stainless steel post into your beer tap, and you are ready to fill your growler from the bottom.
Use a Counter Pressure Bottle Filler Unit
Contaminating your beer with oxygen is the last thing you want to happen when using a growler. For that reason, it is best to purge any oxygen in your growler by blasting it with CO2 using a counter-pressure device. Using this unit will keep your beer fresh and carbonated a lot longer than simply filling your growler up from the bottom.
OneBom makes an excellent stainless steel Counter-Pressure Beer Bottle Filler. It features a special valve that allows the beer and the CO2 to flow down the same tube directly to the bottom of your growler. This process allows you to flush unwanted oxygen and other contaminants from your growler at the same time you are filling it.
An adjustable pressure bleed valve on the side of the unit allows you to control the rate of the fill by adjusting the pressure inside your growler. All OneBom products come with a limited manufacturer's money-back guarantee.
The video below provides a great overview of how counter-pressure beer bottle fillers work.
Reduce the Pouring Pressure
Reducing the pouring pressure from the beer tap when filling a growler helps increase the amount of time you can store beer in a growler. Beer is typically poured at about 10 to 15 psi in most beer-pubs, breweries, and restaurants. Having them reduce the pressure to around 2 to 4 psi reduces the amount of foam and the resulting loss of CO2.
Additionally, filling your growler at lower pressure reduces the beer's exposure to oxygen. For those reasons, your growler will last a lot longer using lower pressure than pouring it at full tap pressure.
Top Up Your Growler Gently
Perhaps you have already noticed that beer tends to speed up and foam more as it approaches the neck of your growler. Once you notice this happening, gently back off on the flow of the beer and remove the growler from the fill tube or tap.
At this point, let some of the foam pour out of the top of your growler to displace any remaining oxygen. Then, go ahead and cap your growler while a bit of the foam is still escaping. You can always wipe the growler down once it is capped. However, this is an important step as it postpones oxidation and allows you to store your growler longer.
Filling Your Growler Directly From the Tap
Depending on your local brewery, beer-pub, or restaurant, you may have no choice but to let them fill your growler directly from the tap. If that is the case, ask them if they can lower the pressure on the tap before pouring. Also, make sure they tilt the growler to reduce the amount of foam created and the corresponding loss of CO2.
Make sure to have them gently cap your growler while some of the foam is still leaking from the top of it.
Other Factors to Consider When Using Growlers
There are a few pointers regarding filling your growler to consider. For example, you should always inspect your growler before filling it to make sure there aren't any chips or cracks. If so, your growler could leak, or your beer could be exposed to unwanted oxygen, reducing the amount of time you can store it.
Likewise, you don't want to overfill your growler. Always make sure you leave about 5-percent space at the top because an overfilled growler can crack or explode if stored too hot or too cold. Fortunately, many growlers come with a fill-line removing the guesswork.
You should always store your beer at about 50 to 55°F (about 10 to 13°C). However, when serving beer it is recommended that you serve ales a bit cooler at about 45 to 55°F (about 7 to 13°C), and lagers at about 40 to 45°F (4.5 to 7°C). Stouts can be served at the storage temperature of 50 to 55°F (about 10 to 13°C).
What We Learned About Making a Growler Last Longer
We covered a lot of information about making your beer last longer in a growler. Hands down, the best method is storing your beer in a pressurized growler. A proper pressurized unit can typically store beer for up to two to three months, sometimes longer.
However, there are reasons to use a traditional non-pressurized growler like cost. Non-pressurized growlers tend to be more portable than pressurized units making them ideal for picnics and other outings.
If you plan on using growlers, perhaps you should bookmark this article for future reference.