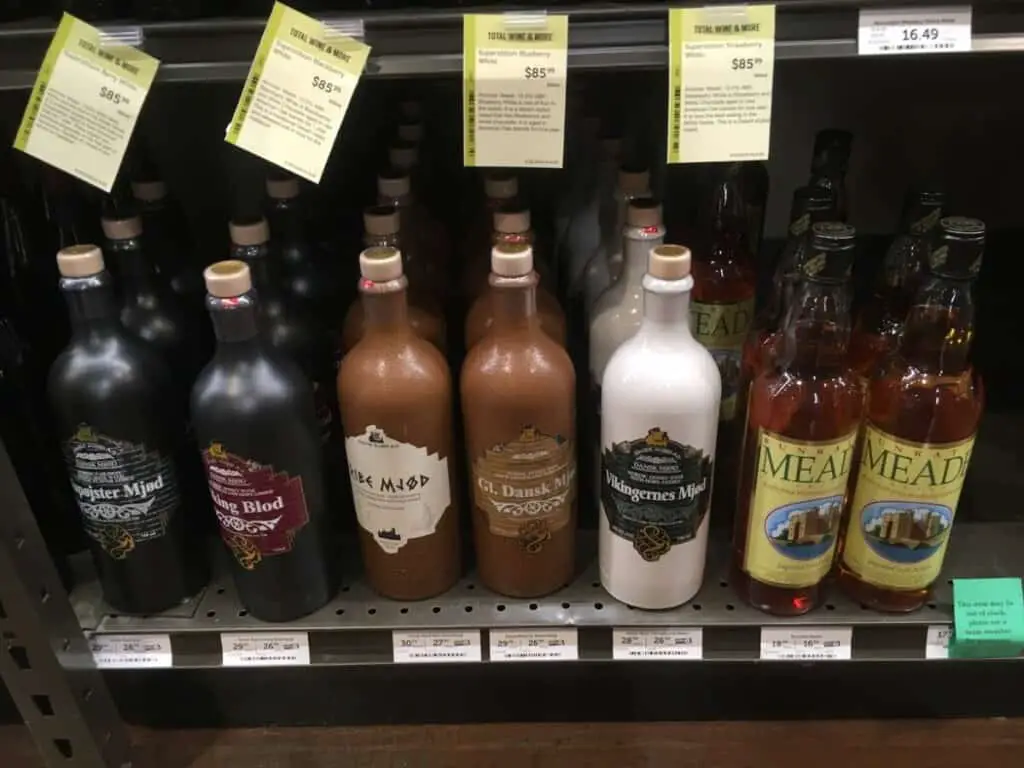 Mead is a relatively rare beverage style when it comes to mass production in the United States. You won't be able to find it in most grocery or liquor stores for this reason. But, just maybe you will be lucky enough to find some in yours.
Mead is considered a wine and is located in the dessert wine aisle of a liquor store. Many stores also place it next to the beer because beer drinkers buy it more than wine drinkers. If your local store does not carry mead tell the store you would be interested in buying, if they were to stock it.
Mead comes in a wide variety of styles and the types of mead are growing as the beverage becomes more popular. Because of the way the industry is regulated some styles are incredibly rare and if you can find some, buy it for a special occasion.
Often times, you can even make mead at home for a fraction of the cost that it would be in the store. Read more below to find out more about mead and make it yourself.
The Type of Mead You Will Find At The Liquor Store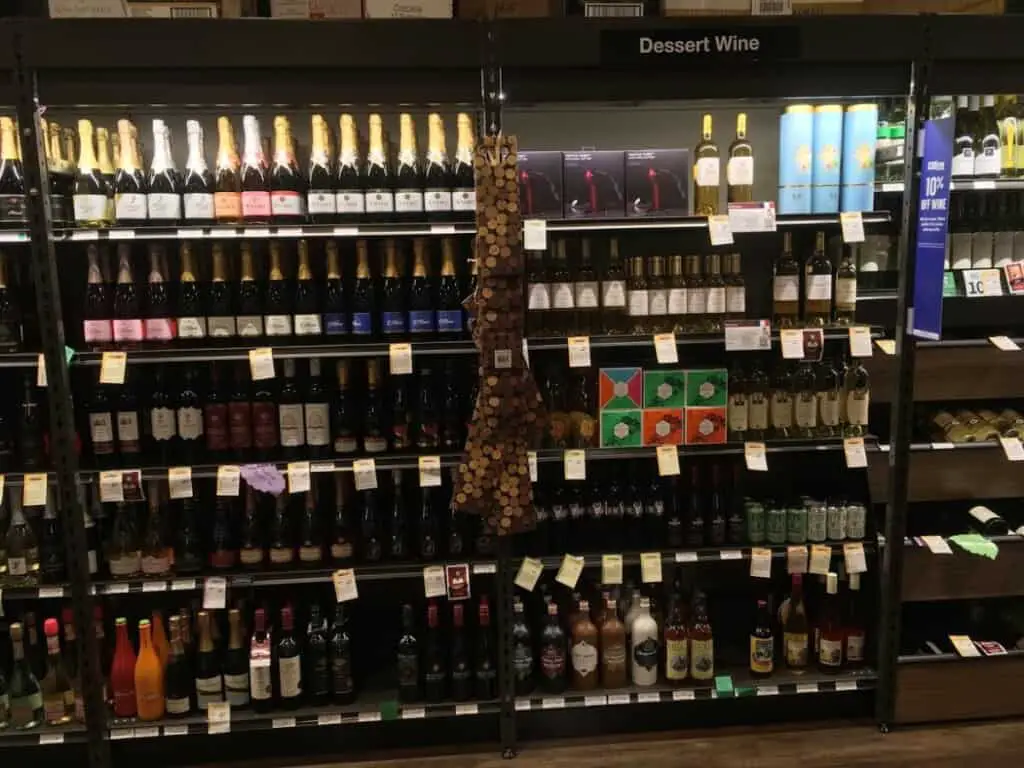 The most common style of mead is also the most simple. It is the traditional honey wine that has three ingredients. Water, honey, and yeast. This type of mead will typically be in the wine section, near the white wine at eye level, or maybe even on the top shelf.
The high cost of production makes mead a more expensive product so you won't typically find it on the bottom shelf of the liquor or grocery store. It may even be locked away in a special cabinet if its an expensive variety.
Polish Mead of the Highest Quality
Polish mead is one of the most sought after styles of mead. This is because it is high quality and has been meticulously made for generations.
Polish mead is broken down into 4 different classifications and you can read more about them on my thick mead article. But, essentially it boils down to the high concentration of honey to water in these mead classifications.
The higher quantities of honey lead to longer production times and higher prices, putting this type of mead into the high quality and expensive section.
Hybrid Styles of Mead
While mead is essentially honey and water, that has certainly not stopped innovation and experimentation. Many styles cross wine, cider, and beer to create a unique product. These styles are called:
Cyser- a mead cider.
Braggot– a mead beer.
Pyment- honey and grape juice wine.
You may be able to find a lot of cysers and even pyments although they will be very rare, because mead establishments don't need a separate license to produce it.
A braggot, on the other hand, will be nearly impossible to find because it has to rely on collaborations between meaderies and breweries. These are often sold directly in the tasting room and its not likely to be distributed to stores.
Mead Sweetness and Gravity
Judging from the mead that may be available in the store you will likely have three different levels of sweetness. Mead can be one of the following three:
The distinction of the three is essentially how much honey is left in the mead, or to say it another way, how much residual sugars are left within the mead. The sweeter the mead is the more sugars are left in the mead.
This can be calculated by taking a final gravity on the mead. If the final gravity is below 1.010 the mead is dry, if it is above 1.025 then it is considered sweet.
Often times sweeter mead feels heavier and more full bodied than dry mead, although this is not always the case.
Different Types of Mead
Not only can mead be a cross between beverage styles but there can also be additions to mead that make it unique. You can add fruit, spices or any number of different ingredients.
Some of the most common and popular styles are:
Acerglyn – Mead made from maple syrup. This is interesting because it can actually not even include any honey, but is just fermented maple syrup.
Melomel – This is mead made with the addition of fruits. A popular mead made with cherries is called Viking Blood.
Metheglin – This is a mead made with spices like cinnamon or nutmeg.
While there is essentially a limitless number of possibilities with making mead, there is a rare number of them in stores. So it might be worthwhile to make your own and its even easier than brewing a beer. All you need is patience.
Buying Mead Online for Variety
There is a growing number of places online where you can buy mead. Any of the big online liquor retailers should have at least some styles of mead. But even online they variety is limited.
Total Wine and More
Total Wine has a good selection of mead. Chaucers is a popular brand and my personal favorite is Bunratty meade. Bunratty is made in Ireland and you can even drink their delicious mead in a castle if you go and visit. I went and it was amazing.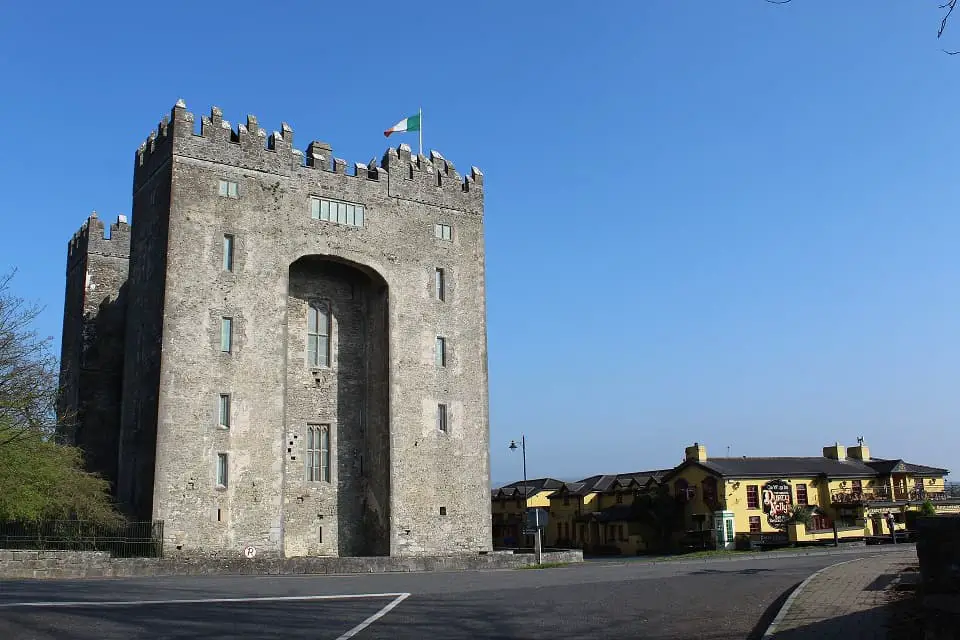 Total Wine even has some Viking mead. But the prices are pretty steep especially for the fancier ones. But they are definitely higher quality.
Bevmo
Bevmo has a poor selection of mead. They only have the two major ones, Bunratty and Chaucers. Its also way more expensive. I probably would not want to shop there for mead.
Vino Shipper
Vino Shipper probably has the best selection of mead that I've seen. They also get their mead from many of the small producers of mead that there are around the country. This makes it a bit more special, since you will find unique mead.
Make Your Own Mead
Mead is expensive. I actually wrote a whole article on why its expensive too. The biggest conclusion from all of my research is that you can make it yourself for a fraction of the cost, and since its for special occasions anyways, why not make your own and have it be even more special.
This nano meadery kit will make you enough mead for the same price that you can buy any in the store, plus you will still have the equipment after its homebrewed for an even cheaper next batch.
You can check out my recommended products page for other information on purchasing honey and to make sure you have everything you need to begin your homebrew mead journey.
Glassware to Drink Your Mead From
You can essentially drink mead from any glass that you want. But, there is something to be said about drinking such a fancy drink from a goblet.
Especially a medieval goblet like the one below. It just makes the mead taste more delicious. You can drink mead out of any wine glass though, since the wide top helps you take in all of the honey character.
If you really want to drink like the Vikings do you can drink mead from a Viking Horn, it is tougher to clean though so you might need to pick up some starsan alongside it, otherwise it could end up pretty stinky.
If you have read this far, consider taking a look at some other articles. In our mead section we have a number of articles that you may be interested in.